Reunion Race
Please join the Half Fanatics in Branson Missouri for the 1st ever Fanatics (Only) Reunion Race.
October 1st 2017
Branson, Mo
The race is offering a $20 discount for all members in good standing (Discount code is listed on the race calendar)
The race will also be awarding members their own Half Fanatics Reunion finisher's medal. Race hotel packages also are being made available at a discounted rate for members (see below).
This will be a great opportunity to meet and greet loads of Fanatics from other parts of the county in this cool resort city. And rumor is, the club founders will all be in attendance as well. So make your plans now for a fun fall trip / awesome race!!!
Perks also include:
Custom club finisher's medal
Custom club shirts for all members
Another customized item for all members (TBA)
Race bag
Race water bottle
Finisher cowboy hat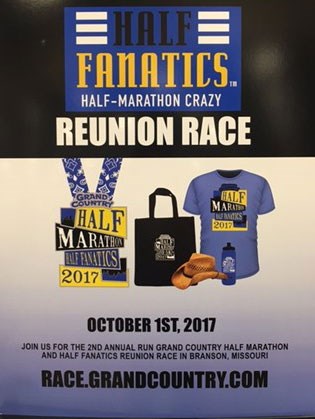 Discount rooms and packages

Half Fanatics are encouraged to take advantage of the resort packages for your lodging needs!
Grand County Resort 888-514-1088 / www.grandcountry.com
$119.00 1 Night Lodging Package
1 night stay (standard room) for up to 2 adults / 2 children
Water park passes for the whole family
4 tickets to Grand Country Music Hall
4 mini-golf passes
1 pizza from Papa Grand's Pizza
$179.00 2 Night Lodging Package
2 night stay (standard room) for up to 2 adults / 2 children
Water park passes for the whole family
4 tickets to Grand Country Music Hall
4 mini-golf passes
1 pizza from Papa Grand's Pizza
*Valid between Sept. 31st and October 2nd, 2017
**Must provide race registration confirmation number.
Clubhouse room upgrade for additional $30.00 based on availability