Fanatic Hall of Fame / R.I.P.
Hall of Fame
In order to be inducted into the Fanatics Hall of Fame, you need to be nominated by someone in the club other than yourself. Once nomination is received and criteria verified, member will be inducted on this page.
Eligibility
To Be Eligible To Be Inducted Into The Half Fanatics Hall Of Fame
You Must Be A Member In Good Standing For A Minimum Of 3 Years.

You Need To Complete One Of The Following Criteria

51 Half Marathons

or more Per Year For 3 Consecutive Years. *Races can start at anytime during the year, but must run consecutively for 3 years*. Example - first race is run 5/1/17, second year would start 5/1/18, and final year would start 5/1/19. A member can finish their 51 early only on the last year. Any extra races run during the first 2 years can't be used to count towards the 153 total races.


5 Time 50 States Finisher.

333 - Lifetime Half Marathons
*You must be nominated by another member*
* When nominating a member, please indicate the candidate's Fanatic number and which criteria they met (from the above 3 options).
Nominations can be emailed to us HERE<<

To Purchase your Hall of Fame Plaque email HERE<< The cost is 39.95 plus Shipping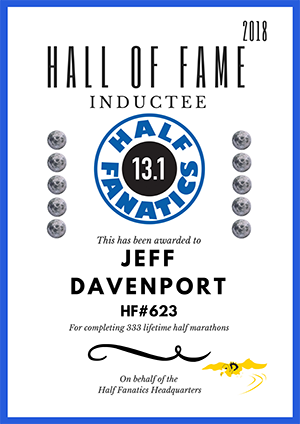 2018 Inducted
Jeff Davenport HF#623    Races
Dee Dee Urquhart HF#1398   Races
Kellie Follett HF#4560  Races
Ila Brandli HF#6464   Races
2019 Inducted
Luz Villamil HF #3889
David Grudzien HF #2764

2020 Inducted
Rachel Ross HF #6506
Victoria Carroll #16390
Lisa Seidel #6155
Karen "Evil Twin" Vollan #104
Kendra Hensley #16737
Robert "Latino Heat" Manon #3646
2021 Inducted
DL "Kilted Tortoise" Dean HF#4555
Aaron T. Shaw HF#16482
JJ Robinson HF#17465
Keith Collingwood HF#772
Natalie Uyeno HF#17314
2022 Inducted
Mary Albrecht HF#8019

2023 Inducted
Teal Clark HF#3264
Ginny Lee #5004
Sue Stevens HF #8593
Cheryl "CJ Rocks!" Jensen HF #17536

To Be Eligible To Be Inducted Into The Double Agents Hall Of Fame
You Must Be A Member In Good Standing For A Minimum Of 3 Years in both The Maniacs and Fanatics
You Need To Complete One Of The Following Criteria

51 Half Marathons + 51 Marathons Per Year (within 365 days) For 3 Consecutive Years.
5 Time 50 States Finisher of both Marathons and Half Marathons
333 Lifetime Half Marathons and 333 Full Marathons

*You must be nominated by another member*
Nominations can be emailed to us HERE<<
 2019 DA HOF Inductions:
Ila Brandli MM#1350 HF#6464 DA#661
 2021 DA HOF Inductions:
Karen "Evil Twin" Vollan MM#2361 HF#104 DA#64
R.I.P. Fanatics
If we are missing someone, please email us at info@marathonmaniacs.com to inform us. Thanks!

Luzviminda Villamil #3889

Tracy Bair - #13795

Larry Monson #1898 

Robert Prayther #1807

Allen Sandstrom #13814

Nancy Conner #6166

Maureen "Team Fluffy Runner" Bowen #555

Ila Brandli #6464